A deep dive into product visualization with Elfsquad CPQ
This article was written by Eelke Kramer from Elfsquad (Operations director)
One of the great advantages of an online product configurator is that your customers or dealers can see exactly what their desired configuration looks like. This not only makes their choices immediately visible, but it also makes it easier for you to sell products. If users can see their configuration in front of them, the product becomes tangible and you have an advantage over your competitors who still work with extensive Excel lists for the configuration. You don't want that, because in that case a configuration is not visual and remains vague. You prefer to immediately show the distinctive details of your solution. In this article you will discover what possibilities there are in Elfsquad when it comes to visualization: from lifelike 2D renders to parametric 3D visualization.
2D visualization with hotspots
The default option for visualization in Elfsquad is 2D visualization. This provides lifelike renders that can be quickly composed in your user's browser.
With 2D, you would think that you need to render all possible configurations in advance. But with a complex product and extensive configuration options, that's not an option; you don't want to work out and upload thousands or tens of thousands of configurations. That is an incredibly time-consuming process, and if there is a change in a product, you have to make all new renders again. That's why at Elfsquad we work with a static background over which we can add layers. A new option that is added is not a completely new render, but only a new layer in which everything except the chosen option is cropped. This makes you a lot more flexible in adjusting your configurations and all possible outcomes can be quickly shown in your configurator.
With so-called hotspots, you add options directly in your render. For example, when configuring a car you can click on the interior to make your choice. In this way visualization directly supports the configuration process.
2D visualization is very suitable for products that are sold directly to consumers, because there is a great need to show a customized product in a lifelike setting. Think of bathroom furniture in a lifelike bathroom environment.
3D visualization with Autodesk Forge
If you already work with 3D software, then it is obvious to also choose 3D for the visualization in Elfsquad. A solution that in many cases is obvious is 3D-visualization with the help of Autodesk Forge. Here you first create an overcomplete model, in which all possible functions, options and configurations are included. Then you link the different options to configurations, so users only see what is relevant.
Furthermore, because you can add 3D models to 3D models, Autodesk Forge as a 3D visualization tool is also very suitable for system configurations, in which, for example, a conveyor belt has to be precisely connected to a spiral conveyor. It is also possible to include cross-sections or exploded views in your configurator.
Parametric 3D with DynaMaker
3D visualization with Autodesk Forge is great if you have all your configurations drawn in 3D. But what if you also want to offer parametric configurations? In that case, it is impossible to work out all possible configurations, perhaps down to the micron, in a 3D drawing and upload it.
In that case, DynaMaker is the perfect solution. Simply put, DynaMaker is a kind of CAD program, but available in the browser. At Elfsquad, we use the integration with DynaMaker because it is the best parametric viewer of its kind. There are a number of reasons for this:
The guided, rules-based visual configuration eliminates errors
It is web-based software, which means that performance and user experience are very high
Integration with Elfsquad is flawless
So it's no coincidence that we've partnered with DynaMaker. It ensures that you can configure parametric products in Elfsquad and see them directly in 3D using DynaMaker. This is especially interesting if you have customers in the industrial sector, where correct dimensions are often incredibly important. With DynaMaker and Elfsquad, a customer can immediately see if the configured item will therefore fit.
Moreover, you can also download 3D files and working drawings directly from Elfsquad, so that the configurations can go into production even faster. An engineer then no longer needs to make working drawings, and has more time for what he is really good at: R&D.
3D visualization with other external parties
Elfsquad and DynaMaker really are a match made in heaven. We did have to develop a standard for configurators and 3D viewers to communicate with each other. In addition to DynaMaker, any external 3D viewer can now be connected to Elfsquad thanks to the standard we developed. This fits perfectly with our popular best-of-breed principle: you now have complete freedom to choose a 3D viewer that best suits your needs, requirements and IT landscape. This principle enables you to use the perfect tool for each process and each task, so that you can create a decisive and flexible IT landscape in which you can work with user-friendly and specialist applications and programs.
For example with Verge 3D
One such viewer is Verge 3D. This is becoming a major player. What they do is actually a combination of everything above: they show lifelike renders like in 2D, but in a 3D variant. It's not fully parametric, but it's also not as modular as Autodesk Forge. With that, Verge finds a very nice balance if you want something more than 2D visualization and the exact dimensions are of slightly less importance.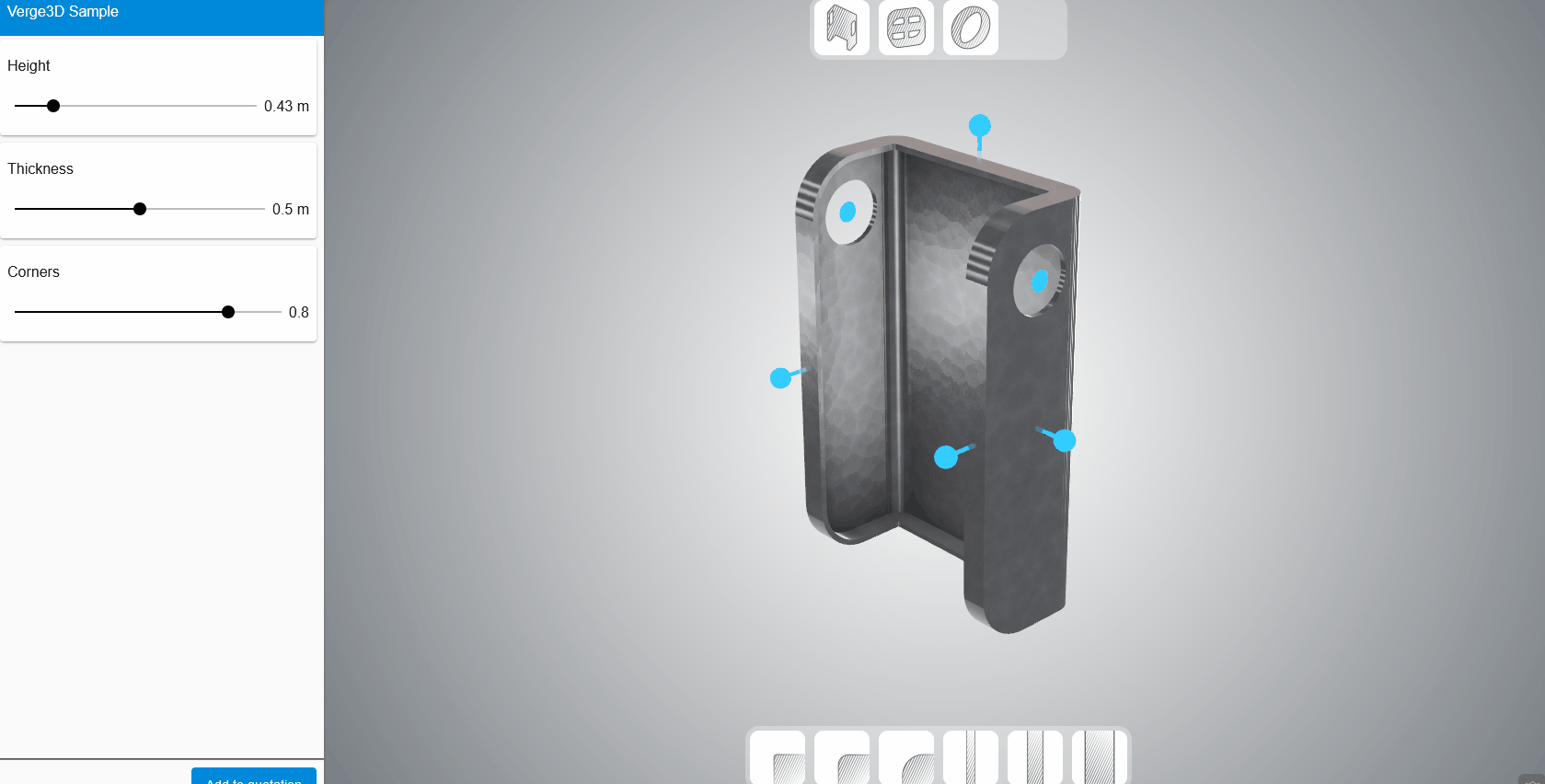 Want to know more about the visualization possibilities in Elfsquad?
We could go on and on about all the visualization possibilities in our CPQ software, but we'd much rather just show it to you! Contact us to discuss the possibilities and to request a demo.